Processing method:Wrapped
Features: with oil holes,with airproof ring
RCB-090 wrapped split bearing(DIN 1494 ISO 3547)
RCB-090 split bearing is the same as FB090,BK090,FBB090 which are wrapped of a cold formable bronze plates (CuSn6.5), which will obtain exceptional material properties. The standard size are fitted with diamond shaped lubrication indents on the bearing surface. These indents serve as lubricant reservoirs to rapidly build up a lubrication film in the start movement and therewith reduce the start friction.
Wrapped bronze bearing is widely used in lifting machinery, construction machinery, automobile tractor chassis, machine tool industry, mining machinery, automobile transmission shaft, automobile gearbox, generator, crane, metallurgical machinery and conveyor, elevator, winding machine, leveling machine and other medium load and low-speed occasions.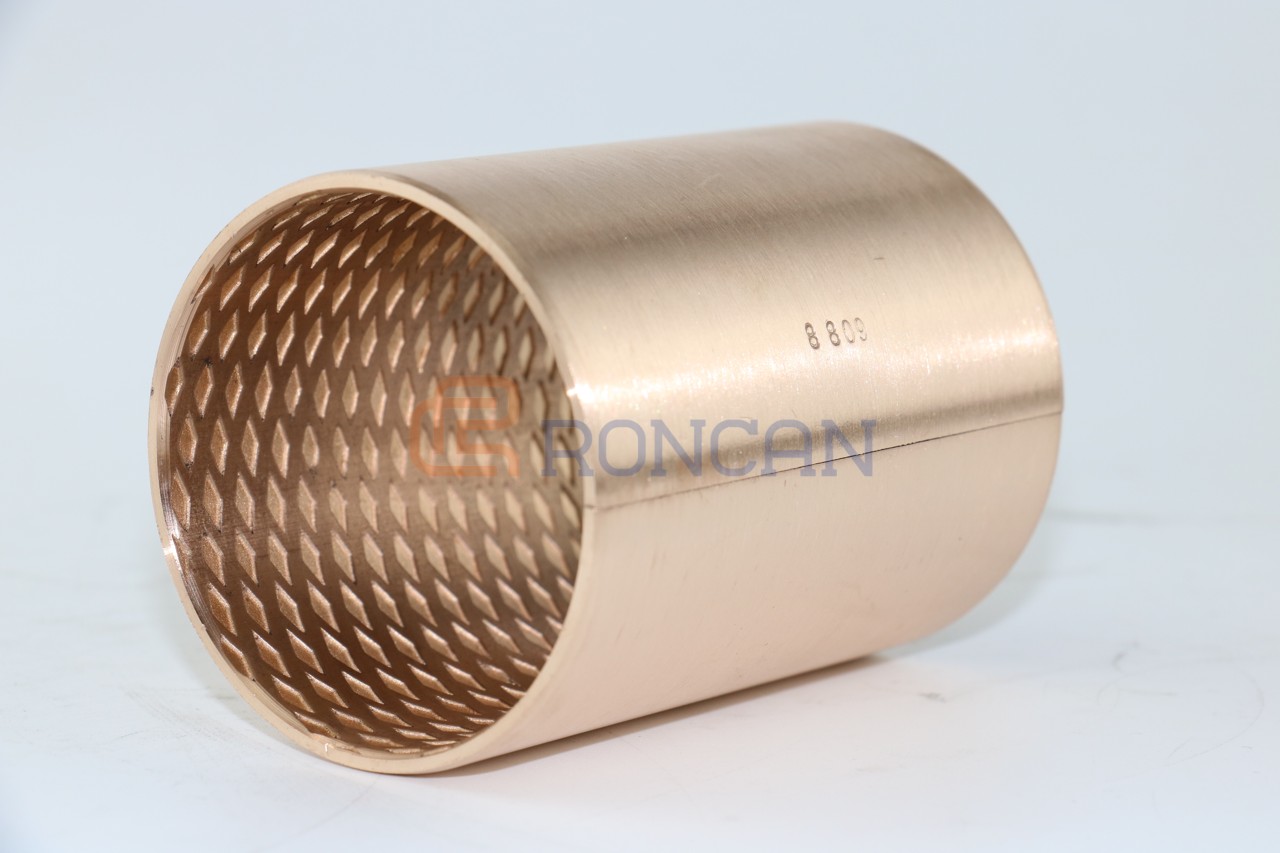 TECHNICAL DATE
| | | | | |
| --- | --- | --- | --- | --- |
| Max. Load | Static | 120N/mm2 | Hardness | HB 90-120 |
| | Dynamic | 40N/mm2 | Elongation | 40% |
| Max. Speed | | 2m/s | Temp. | -100℃~+200℃ |
| Max. PV | | 2.8N/mm2.m/s | Friction coefficient | 0.08~0.25 |
| Tensile strength | | 450N/mm2 | Thermal conductivity | 60W(m.K)-1 |
| Yield point | | 450N/mm2 | Coefficient of thermal expansion | 15x10-6K |
APPLICATION CHARACTER
1. The products inside surface is full of diamond oil indention, which can stock grease.
2. Minim oil lubrication, can be applied in water-lubrication environment
3. Good anti-abrasion, low coefficient of friction, long operating life.
4. Can work consecutively at 100℃~+200℃.
5. Good mending, low-noise, non-pollution
6. This wall, light, can reducing the volume of the machine
7. High density, high load no alveoli
The products now are applied in different machine, such as auto machines, pumps, plastic injection machine, auto industry, heavy equipments, etc.
RONCAN, one of the professional cusn6 cusn8 brm10 mbz-b09 fb090 wrapped split bushing manufacturers, is also known as an excellent supplier in China. We now bring you the best quality cusn6 cusn8 brm10 mbz-b09 fb090 wrapped split bushing with high precision and reliable performance. Should you are interested in it, please feel free to get in touch with our factory.